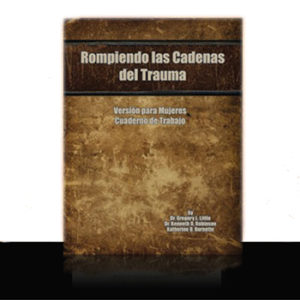 Rompiendo las cadenas del trauma (Mujeres Españolas)
Books
,
Productos en Español
Description :
(Trauma-Focused MRT, MRT or  MRT DV certification required)
(se requiere la certificación de MRT, MRT  de DV o MRT  enfocada en trauma)
Trauma-related issues pose some of the greatest stumbling blocks to recovery for offenders, mental health clients, substance abusers, and individuals struggling with day-to-day responsibilities. These workbooks (67 pages) are based on the MRT approach and incorporate all of the key issues identified in SAMHSA's Trauma-Informed Treatment Protocol. They are designed to be used in an 8-session group format that can be implemented in an open-ended format-where new participants can enter at any time-or as an 8-session psychoeducational class. There are separate workbooks for female and male participants. The books are available only to those programs with MRT and MRT DV trained staff. A Facilitator's Guide is available to programs using the method. The Journal can be used as a supplement to the program.
Los problemas relacionados con el trauma plantean algunos de los mayores obstáculos a la recuperación para los delincuentes, los clientes de salud mental, los drogadictos y las personas que luchan con las responsabilidades diarias. Estos cuadernos de ejercicios (67 páginas) se basan en el enfoque de MRT e incorporan todos los temas clave identificados en el protocolo de tratamiento de trauma-informado de SAMHSA. Están diseñadas para ser utilizadas en un formato de grupo de 8 sesiones que puede ser implementado en un formato abierto-donde los nuevos participantes pueden entrar en cualquier momento-o como una clase psicoeducativa de 8 sesiones. Hay libros separados para los participantes femeninos y masculinos. Los libros están disponibles sólo para aquellos programas con el personal capacitado de MRT y MRT DV. Una guía del facilitador está disponible para los programas que utilizan el método. El diario puede ser utilizado como suplemento del programa.