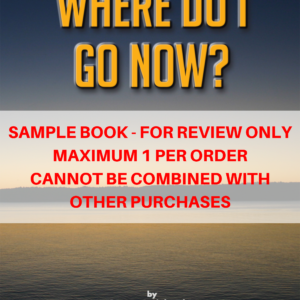 Where Do I Go Now? Pre-treatment for Alcohol and Drug Disorders – Single Book (Limited Time Offer)
**PLEASE NOTE: Choose this purchase option ONLY if you wish to order a single copy of Where Do I Go Now? for review purposes. If you are interested in purchasing multiple copies OR if you would like to purchase any additional items with your order, please purchase here: https://www.ccimrt.com/product/where-do-i-go-now-workbook/
No returns or refunds on this offer.
Books
Brands: Relapse Prevention, Substance Abuse/Addiction
Description :
Where Do I Go Now? is a 3-month, 12-chapter program workbook for clients participating in alcohol and drug pre-treatment programs in settings such as drug & specialty courts, substance abuse treatment, community corrections, or probation. The program is open-ended meaning that clients can begin participation at any time. The 36-page workbook is designed for easy implementation and adapts to any treatment venue. The 12-sessions require a weekly interaction with program staff. The workbook focuses on two major goals: Assisting clients to successfully complete the initial 3-months of participation and to encourage continued engagement in more formal treatment.