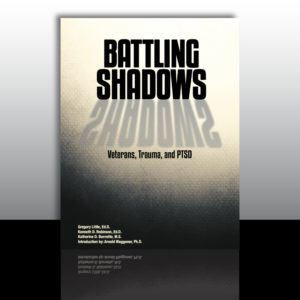 Battling Shadows
Professionals providing trauma treatment for VA programs may order this book without receiving additional training.  However, non VA program staff must complete CCI's specialized Veterans Trauma training in Battling Shadows.  Watch program overview video here.
Books
Brands: Trauma, Veteran-Specific
Description :
Contract discounts are available for bulk materials purchases of 500 workbooks or more. Please call (901) 360-1564 or email ccimrt@ccimrt.com to inquire.
Battling Shadows is a new and totally unique cognitive-behavioral workbook that directly confronts trauma issues typically encountered in Veteran populations. This workbook was made to confront the unique types of trauma that are specific to the Veteran population. This 150-page workbook is designed to be implemented in eight group sessions, facilitated by professional staff. The program utilizes unique techniques that are intended to be used only with Veteran focused groups.
Several audio CDs used as adjuncts in trauma treatment are available. See the Trauma Audio Resources page for more information.
To view upcoming Veterans Trauma trainings, click here.