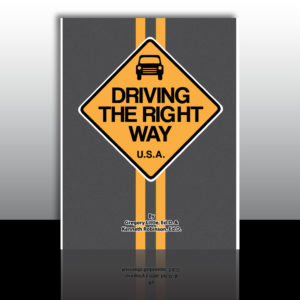 Driving The Right Way: U.S.A.
Minimum Qty: 6
CCI sets minimum book quantities at 6 per order. In order for CCI to consider a lesser amount, please email our office at lauren@ccimrt.com
Books
Brand: DUI
Description :
Contract discounts are available for bulk materials purchases of 500 workbooks or more. Please call (901) 360-1564 or email ccimrt@ccimrt.com to inquire.
Driving the Right Way (33 pages) is a workbook aimed at changing thinking and decision-making in first time DUI offenders. The program is incorporated into DUI programs in accordance with a state's hourly educational/treatment requirements of which the Driving the Right Way component comprises 6 to 8 hours.
The Workbook is divided into 4 sessions that are usually presented in one day but can be broken into 4 group meetings. Participants can read and complete the written material for each session and then share their responses in group. Alternately, some programs have the program facilitator read the beginning of each section to participants and then have them fill out the written material so that all participants can work at the same pace.
This workbook has been adopted in several jurisdictional programs treating repeat DUI/DWI offenders where it is used in combination with the workbook "Thinking for Good".
A Spanish version of the workbook is also available.