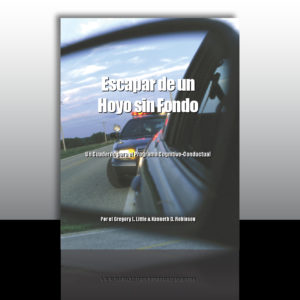 Escaping A Bottomless Pit (Spanish Version)
Minimum Quantity: 6
CCI sets minimum book quantities at 6 per order. In order for CCI to consider a lesser amount, please email our office at lauren@ccimrt.com
Books
,
Productos en Español
Brand: DUI
Description :
Contract discounts are available for bulk materials purchases of 500 workbooks or more. Please call (901) 360-1564 or email ccimrt@ccimrt.com to inquire.
A 29-page cognitive-behavioral workbook aimed at changing thinking and decision-making of revoked/suspended license offenders. It is an open- ended, 8 hour group counseling program that can be completed in one day or 6 weekly sessions.
Target Population & Use- This workbook targets individuals who are referred for violations of driving on revoked/suspended licenses. It is a brief intervention that emphasizes choices and consequences and forces participants to make a plan of action focused on how to eventually drive legally.
Implementation Settings- The program can be used in adult and juvenile programs in virtually any setting including drug/DUI courts, corrections, probation and parole, community corrections, diversion programs, and in private treatment settings.