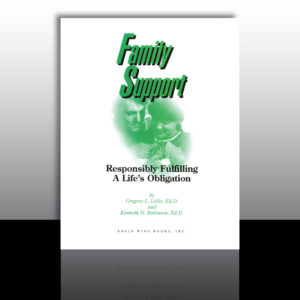 Family Support: Responsibly Fulfilling A Life's Obligation
Minimum Qty:  6
CCI sets minimum book quantities at 6 per order. In order for CCI to consider a lesser amount, please email our office at lauren@ccimrt.com
Books
Brand: Parenting
Description :
Contract discounts are available for bulk materials purchases of 500 workbooks or more. Please call (901) 360-1564 or email ccimrt@ccimrt.com to inquire.
A 26-page client workbook designed to be utilized in 8 group sessions. This program directly confronts failure to pay child or family support payments.
Target Population & Use
Family Support  is targeted to individuals who have failed to maintain obligations to pay family or child support.
Implementation Settings
The program is in use in correctional programs, probation & parole, drug courts, community corrections, diversion programs, educational institutions, and in private settings.
How It Is Conducted
The program consists of 8 sections with homework designed to be completed prior to group and presented in 8 group meetings. The program is either open-ended and conducted in ongoing groups with new members entering as assigned or all members can complete each section in a close-ended format.
Minimum Qty:  6