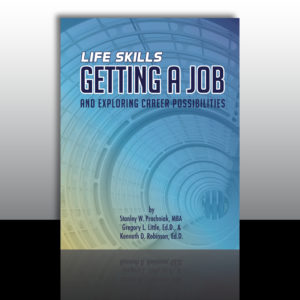 Getting a Job: And Exploring Career Possibilities
Minimum Quantity: 10
If you'd like to purchase a single workbook for program review/evaluation, please email ccimrt@ccimrt.com or call our office at (901) 360-1564.
Books
Brand: Job Readiness
Description :
Contract discounts are available for bulk materials purchases of 500 workbooks or more. Please call (901) 360-1564 or email ccimrt@ccimrt.com to inquire.
Getting a Job: And Exploring Career Possibilities is a 60-page workbook containing 11 chapters. The primary focus of the program is to teach the necessary life skills to help clients get—and keep—a job and to begin thinking about a career. This workbook should be employed with juveniles who are about to enter the workforce—or with those who have already been employed and are looking for their next job—or a career. The homework contained in each chapter is shared in a group process that can be easily incorporated into any type of setting. Groups can be conducted in an open-ended format, where clients can work on completing sessions at their own pace; or in an education format, where all members of the group complete sessions at the same time.