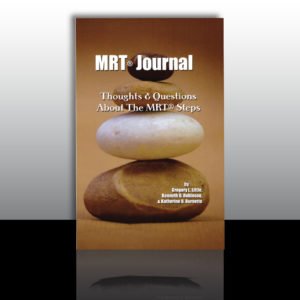 MRT Journal: Thoughts & Questions About the MRT Steps
Contract discounts are available for bulk materials purchases of 500 workbooks or more. Please call (901) 360-1564 or email ccimrt@ccimrt.com to inquire.
Books
Brands: Adult & Tribal Offenders, Juvenile Offenders, Substance Abuse/Addiction
Description :
The MRT Journal: Thoughts and Questions About the MRT Steps presents ideas and questions about various aspects of the 12 major steps of MRT.  The MRT Journal will be useful for programs using the MRT curriculum.
How It Is Used
In this journal, participants can think about various philosophical aspects of the MRT steps and note comments, questions, and insights as they see fit. Clients can use it in MRT discussion groups and counselors could encourage clients to share insights in individual counseling sessions.