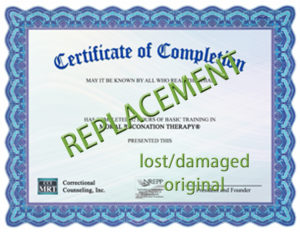 Replacement MRT Facilitator certificate
For Facilitator's previously certified in MRT, please include your training date and training location in your order notes at checkout.
Certificates
Description :
Any person previously trained and certified as an Moral Reconation Therapy – MRT® Facilitator is eligible to obtain a replacement certificate for a processing fee of $15.00. CCI staff will verify the facilitator's full name, agency, training date, training location, and type of training (MRT, MRT review, MRT advanced, Trauma, Domestic Violence, or Veteran's Trauma) prior to processing and shipping the replacement certificate. For more information, please call our office at (901)360-1564 M-F 8a-5p CST.