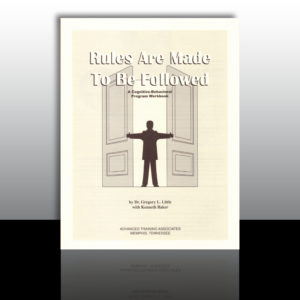 Rules are Made to be Followed Workbook
Minimum Qty:  10
If you'd like to purchase a single workbook for program review/evaluation, please contact Chip Johnson, Chip@ccimrt.com or (901) 581-8762 (direct).
Books
Brand: Criminal Justice
Description :
Contract discounts are available for bulk materials purchases of 500 workbooks or more. Please call (901) 360-1564 or email ccimrt@ccimrt.com to inquire.
A 16-page client workbook designed to be utilized in 8 group hours or 4 group sessions. The group meetings can be weekly for diversion/probation settings or the program can be completed over a weekend. This program directly confronts the problem of underage drinking and fake IDs.
Target Population & Use
Rules Are Made To Be Followed is directly targeted to underage drinkers who are placed on probation, diversion programs, or ordered to undergo a brief program.
Implementation Settings
The program is in use in probation, community corrections, diversion programs, educational institutions, and in private settings.
How It Is Conducted
The program has 4 sets of homework designed to be completed and presented in 8 group hours. The program can be conducted over a weekend or in weekly group meetings.
Supportive Materials
A free Facilitator's Guide is sent on request.
Minimum Qty:  10