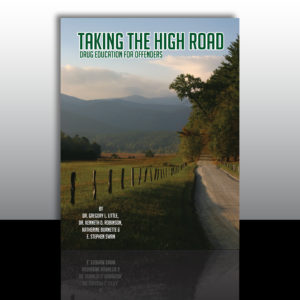 Taking the High Road
Minimum Qty: 6
CCI sets minimum book quantities at 6 per order. In order for CCI to consider a lesser amount, please email our office at John@ccimrt.com
Contract discounts are available for bulk materials purchases of 500 workbooks or more. Please call (901) 360-1564 or email ccimrt@ccimrt.com to inquire.
Books
Brands: Adult & Tribal Offenders, Drug Education, DUI, Juvenile Offenders, Relapse Prevention, Substance Abuse/Addiction, Veteran-Specific
Description :
Taking the High Road is a completely new and unique 41-page drug education workbook and program for offenders at all levels of criminal justice — drug courts, parole and probation, community corrections, jails, and prisons. It utilizes an approach of brutal honesty and openness and has participants share their ideas, thoughts, and experiences in a group format. The program can be operated as an educational class or in an open-ended group. Traditional drug education for offenders attempts to scare participants but, as all criminal justice professionals know that approach simply has no discernible effect on this population. The program consists of eight modules where participants first read the relevant module and answer questions posed at the conclusion of each. in group each participant then shares his or her response with the group.