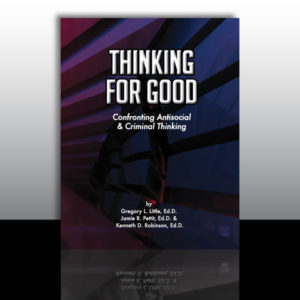 Thinking For Good Workbook
Suggested Minimum Quantity: 10
If you'd like to purchase a single workbook for program review/evaluation, please contact Ashley Burgess, Ashley@ccimrt.com or (901) 581-2748 (direct).
Books
Brand: Criminal Justice
Description :
Contract discounts are available for bulk materials purchases of 500 workbooks or more. Please call (901) 360-1564 or email ccimrt@ccimrt.com to inquire.
This 37-page workbook focuses especially on typical criminal thinking issues such as: Everyone lies, cheats, and steals; no one can be trusted; the rules don't apply to them; that all relationships are manipulative.